Welcome to San Diego Blog | July 31, 2013
Luxury San Diego Condo
The lifestyle opportunities at The Grande Condos in Downtown San Diego are like being on vacation every day. Located on Pacific Highway, in the "front row" of San Diego's Columbia District, the views and location of this beautiful home rival the best ocean side hotels.
Recently listed, this 1,684 square foot condo is oriented on the southwest corner on the 32nd floor of the Grande's North Tower.  Every room in the home offers panoramic views from Mexico to Point Loma and the Pacific Ocean.  The large patio provides the perfect perch to enjoy every sunset and fireworks display.
The home is set up for casual, easy living.  A well equipped chef's kitchen opens to large living and dining rooms.  The rich Brazilian Cherry floors have been extended into both bedrooms.   It features two large bedrooms, plus a den–each with spectacular views.  The den has been built out for a library and office.
The Grande San Diego Lifestyle
Think of it as a vacation opportunity every day!  People visit San Diego from all over the world to enjoy the sights and the sunshine that residents of The Grande experience daily.
The amenities are first class in every way.  A sun-drenched lap pool and spa is surrounded by chaise lounges and outdoor seating arrangements.  Lush tropical plantings are meticulously maintained.
The gym provides an abundance of cardio, free weights and a complete circuit for workouts.  For a less strenuous workout, both steam room and sauna are available.
The North Embarcadero
For nearly a decade, the city of San Diego and The Port Authority have been planning and implementing "The North Embarcadero Visionary Plan."  This combination of public spaces and commercial development extends from The Midway Museum to the County Building.  Already, much of the plan's footprint can be seen from the Grande Condo.
One of the many parking lots that will be converted to park land has been removed from the County Building in front of the residence.  Instead of asphalt and cars, the landscape will include water features, green space, sculptures and seating areas.
The ticket booths that once crowded the ferry landing and Maritime Museum on the west side of Harbor Drive have all been moved across the street.  A wide promenade for pedestrians will soon be completed on the waterfront.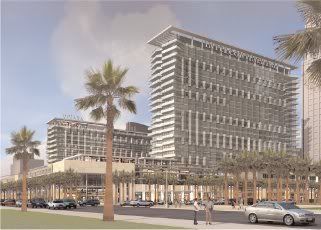 The development that is most eagerly awaited however, are the hotels and retail shopping district proposed for Lane Field.  This project just north of Broadway will soon see a seventeen story hotel spanning the south side of the parking lot from Pacific Highway to Harbor Drive.
Please contact David Manes, San Diego Realtor for a showing of The Grande North #3206.  This amazing condo is priced at $1,395,000.
David can be reached at 858.432.3203 or david.manes@welcometosandiego.com
---